These coloring and activity sheets are available for educational, non-profit, or personal use and may not be modified for any reason without written permission. Click the image to download the high-resolution version. Most of these are intended to be printed on 8.5 x 14″ legal size paper, but the "Zooplankton of the Great Lakes" can be printed on standard 8.5 x 11″ letter size paper. If you use one of these coloring sheets or have suggestions for others, feel free to drop me a line!
If you would like an email notifying you when a NEW coloring sheet is added, click below to add your email address to the mailing list. I won't send you spam!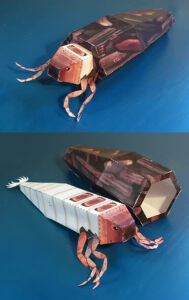 Size: 8.5 x 11″ (3 pages; print single-sided)
The caddisfly larva builds its own house from riverine debris, and now you can build your own papercraft caddisfly complete with two different case options: one made of sticks or one made of stones. Want to design your own caddisfly case? Download the blank one and color it in yourself!
Difficulty rating: EASY
Download stick case version  |  Download stone case version  |  Download DIY blank case version
Round Goby and Quagga Mussel papercraft
Size: 8.5 x 11″  (3 pages; print single-sided)
For something a little different, here is a round goby and quagga mussel papercraft kit! Print out the pages, grab some craft glue, and fold up your own Great Lakes invasive species! Papercraft kit is available in full color or black and white (which you can color yourself before putting together). Note: Some of the folds might be difficult to see on the black and white version–if needed, use the color version's PDF as a reference for fold positions.
Difficulty rating: MEDIUM-HARD
Size: 8.5 x 14″  
This coloring sheet was produced for the Great Lakes Phragmites Collaborative and can be downloaded from their blog. It provides an overview of non-native Phragmites (common reed), the effects it can have on the ecosystem, and ways it can be managed. The back has a guide to what you see on the front!
Size: 8.5 x 14″  
Get lost in the world of Midwestern wetland plants and see some animals along the way. This guide to the plant species will help you identify what you see.
Creatures of the Vernal Pool
Size: 14 x 8.5″ 
Explore the temporary spring-time habitat of the vernal pool. Find swamp cabbage, spotted salamanders, a spotted turtle, fairy shrimp, seed shrimp (ostracods), zooplankton, water bugs, wood frogs and spring peeper, dragonfly nymph, caddisfly larvae, ribbon snake, egg masses, duckweed, and fingernail clams!
Great Lakes Lake Sturgeon
Size: 14 x 8.5″
Starring everyone's favorite living fossil. This sheet highlights the life cycle of the Lake Sturgeon and other inhabitants of the spawning reef.
BONUS: Here's an activity sheet you can print on the back of the coloring sheet.